DatapointLabs and Matereality are attending more than half a dozen technical meetings and trade events over the next several months. Recent advancements in both material testing applications and material data management software will be the focus of the companies' joint presence.
Hubert Lobo will deliver Comments on the Testing and Management of Plastics Material Data at the CARHS Automotive CAE Grand Challenge in Hanau, Germany.

Abstract: Plastics appeared as design materials of choice about 30 years ago. They brought with them huge design challenges because their multi-variate, non-linear nature was not well understood by engineers trained to work in a linear-elastic world. We outline a 20-year journey accompanying our customers in their efforts to understand and simulate these remarkable materials to produce the highly reliable plastic products of today. We discuss challenges related to processes such as injection molding vs. blow-molding; coping with filled plastics; the difficulties of modeling polymers for crash applications. We include our latest findings related to volumetric yield in polymers and its relationship to failure. We describe the material database technology that was created to store this kind of multi-variate data and the analytical tools created to help the CAE engineer understand and use plastics material data.



Paul Klinger will deliver Software for Creating and Managing Material Specifications at SPE AutoEPCON in Troy, MI, USA.

Abstract: Material specifications define properties for incoming materials to meet required criteria. We present software that manages creation of material specifications, input of properties and material composition; and provides a way to evaluate qualification per specification. While it is designed for OEM/Tier n environments, it is also applicable for materials suppliers.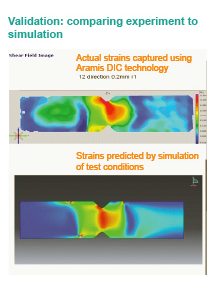 With the increased use of high-strength, low-weight composite materials in structural design, DatapointLabs has seen an increase in demand for physical properties of these materials. For many years DatapointLabs has offered testing to capture rate sensitivity of polymeric and metallic materials for use in CAE simulation. Now we are extending this offering to composite materials, incorporating tensile, flexural and shear deformations.
Composites present a significant simulation challenge because of their orthotropic nature, so that even simple stiffness predictions require a complex material model. Last year, we presented a paper at the NAFEMS conference on Use of Digital Image Correlation to Obtain Material Model Parameters for Composites. Composites testing has now been extended into the dynamic arena with high strain-rate testing capability up to 100/s. Further developments are under way to provide even more material tests for composite materials, as well as to implement more composite material models for supported structural CAE platforms.
Review our Test Catalog to find individual tests and TestPaks® to meet your material data needs.
DatapointLabs is proud to be a sponsor of Ithaca High School's FIRST Robotics Team 639, Code Red Robotics. In March, the team successfully defended its 2013 Buckeye Regional title in Cleveland, Ohio, among 54 teams from across North America. In addition, the team received the Innovation in Control Award, which recognizes an innovative application of control components to provide unique machine performance, their unique hammer drive provided exceptional power as needed while also conserving battery power.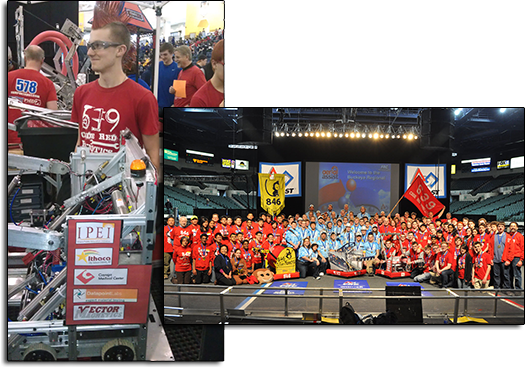 A Code Red Robotics team member with the "Red Hippo" robot, sponsored in part by DatapointLabs, watches the action at a competition (left). The 2014 Buckeye Regional Championship alliance included Team 639, Code Red Robotics (right).
The Code Red Robotics team has now qualified for the 2014 International Championships in St. Louis from April 24-26, where less than one percent of FIRST teams worldwide will compete.
The team has done well at past competitions, winning Regional competitions in 2004, 2005, and 2013; receiving the Engineering Inspiration Award in 2012; and attending the International Championships last year. We wish the team continued success as they plan for the 2014 International Championships!